Well...the year's over, I know some of my grades, almost everyone I live with has moved out and gone home, and the rest will follow shortly, and... Yeah. I'm in a rather melancholic sort of mood, and I might have spent significant portions of the past two days crying at how long it's going to be before I see my friends again. (I also have a somewhat irrational fear that there'll be a repeat of what happened at the end of last semester, which I am desperately hoping will be proven as irrational, since, you know, I'd like to not melt down after each time I hug a friend goodbye. At least I have a ticket to go to one of the museums that requires a ticket, and there's a festival in University Circle today, so I'll have a bit of a distraction. And I'm going to either Target or the mall area at some point this weekend to get some storage containers. At this point, I think getting off the floor as much as possible is going to be the only way I stay a functional human being. There's far too much temptation to just sit on the couch and cry or just stare at the wall, which is even worse than playing Skyrim for eight hours on end because I don't even want to do it. Bluh.
I'll quit rambling now - not that I'm much in the mood for it - and show you things that have made this week sort of better.
I don't think you can understand my reaction to these shoes. It was over-the-top dramatic. I gasped really loudly and started fanning myself. It was actually probably hilarious, but no one witnessed it.
Earring magnets = perfect way for me to deal with my intense lust for earrings.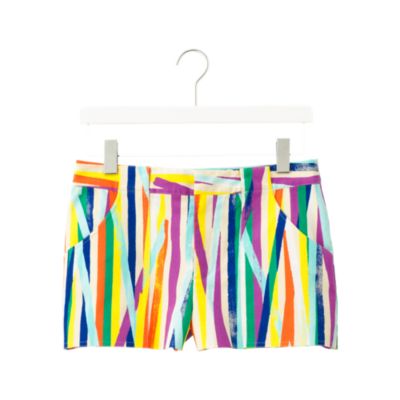 So...after finals, my planned reward was a pair of sandals. And then
these
shorts happened. $75 is now the most I've ever spent on a piece of clothing. And I actually don't regret it. Kate Spade Saturday is kind of my new favorite thing. And also may eventually kill me because it's all so expensive but I want it all so much. (Also, the package came with this adorable bright yellow card that said "Make Every Day a Saturday", or something like that, which my roomie happily relieved me of, because she LOVES yellow). Good purchase? Hell yes. Just don't be like me and order it and realize three days later that you also have to feed yourself until your first paycheck. Thank goodness I have parents who find it
funny
when I do stupid shit... I'm adjusting to this adult thing, I guess.
I'm the custodian of my friends' xbox, tv, and computer over the summer (along with a dozen other things), and it's all going to be in a single room. I'm going to have to become a boss at organization. Step one is cords, because god only knows how awful a room is when it's already small and then has cords everywhere. I'd imagine it would be worst when coming home from work and not wanting to deal with shit... So cord control is step one.
Can someone just turn me into Emma Watson or something? Please?
This is such a cute idea, and I'm motivated to try it primarily by the idea of being able to make my own cards and stuff for people's birthdays and still have them be sorta unique and interesting and distinct from one another. (Also monetarily motivated...) I already tend to make my own cards (or I did, until I stumbled upon the five things of stationary I had leftover from middle school and decided to put all those dolphins to use...) and so having some sort of vague idea of what I want to do with them is always a boon.
Hello English language, how ya doin'? Stuff like this is why I giggle when someone says that learning Arabic must be so hard for me. I speak
English
, which doesn't follow any of its rules in the slightest. While I don't know if the numbers on this are true, I don't doubt that it's a close ratio, because
please
, English.
What are your favorites for the week?